Marine biotechnology will help solve the global plastic crisis, according to KETmaritime EU Project
Posted 2020-02-26 11:41:14 by Admin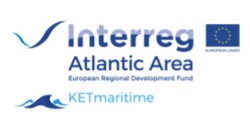 A detailed report released today by a consortium of leading European scientists shows that biodegradable biopolymers created from the sea have the potential to compete with traditional plastics - while crucially offering a more environmentally friendly alternative.
The study on 'Marine Industrial Biotechnology' is part of the Euro1million KETmaritime project, funded by the Interreg Atlantic Area Program, via the European Regional Development Fund.
Project coordinator Ana Vila from the International Iberian Nanotechnology Laboratory (INL) said the global bioplastics and biopolymers market is projected to surpass USD5Billion by 2021.
"We are witnessing a major global movement as countries around the world are looking to prohibit or limit the use of conventional plastics," she said. "There is growing pressure to find more sustainable and environmentally friendly alternatives. Recent advances in the production of biopolymers from marine sources such as algae, crabs, shrimp and prawn waste are proving hugely successful. A key attraction is the 'biodegradability' factor which could help reduce the problem of marine litter - considered by the European Commission as one of the largest current threats to the environment.
"Our latest study highlights a number of companies who are already putting the technology into practice including Netherlands firm Studio Klarenbeek & Dros working alongside Atelier Luma in France to develop algae-based biopolymers to compete with traditional plastics. The material can be applied on an industrial scale and processed like traditional plastic. It has proven to be suitable for injection moulding with 3D printing processes. Meanwhile, in Italy, Algamoil and Teregroup are also working on the development of 100pc biodegradable plastic made with algae in the form of filaments."
The most important bio-based biodegradable biopolymers are PHAs (Polyhydroxyalkanoates) and PLAs (Polylactic acid). PHA polymers are thermoplastic and can be transformed by means of injection-moulding to produce films and sheet, fibres, laminates, nonwoven fabrics and adhesives. PLA is also a thermoplastic polymer that can replace traditional polymers such as PET, PS, and PC for packaging applications.
The latest KETmaritime study was led by Spanish technology centre IDONIAL in collaboration with Marine South East in the UK and the INL in Portugal.
David Santos from IDONIAL said other naturally occurring biopolymers present in marine biomasses include 'chitin' and 'chitosan'. Both can be produced through a chemical extraction processes involving crabs, shrimp, and prawn wastes.
"The exploitation of fish and shellfish biowastes to produce chitin and chitosan presents a large business opportunity for the EU market," he said.
The KETmaritime project is being delivered by a consortium of seven partners across Europe in an effort to identify 'Key Enabling Technologies' to support the future needs and demands of the Atlantic maritime industry. It involves five detailed reports.
The consortium includes French multidisciplinary research laboratory CIMAP (CEA group), Portuguese maritime economic cluster Forum Oceano and Spanish industrial design centre IDONIAL. Ireland's national centre for marine and renewable energy MaREI and UK marine cluster organisation Marine South East are delivering further support, alongside Spanish non-profit research association AIMEN.
To download the complete KETmaritime case study report on 'Marine Industrial Biotechnology Applications' click on the following link
http://
www.ketmaritime.eu/media/
For more information on the KETmaritime project visit the website
http://
www.ketmaritime.eu
phone +351 253 140 112 or email Ana Vila on
Ana.Vila@inl.int